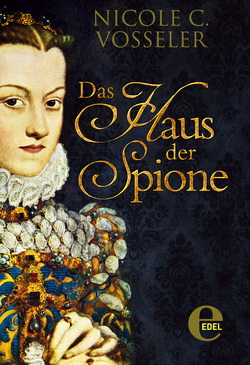 House of Spies / Her Majesty´s Youngest Spy
England, 1582. Two queens contend for the power - Protestant Elizabeth I. and her adversary, the Catholic Mary Stuart, Queen of Scots. Only one of them can prevail, and on both sides, multitudes of spies try to ensure victory for their respective queen by scheming intrigues.
Nothing could be further away from the daily life of Nicholas Christchurch, a foundling and runaway. Living on the streets of London, he ekes out his meager bread with petty thefts and card tricks. Until one day his path crosses with that of John Dee - the as famous as infamous
Magus of Mortlake
: mathematician, astronomer, astrologist, occult philosopher, alchemist, last but not least advisor to Queen Elizabeth I - and the original
007
.
Nicholas accepts the offer to help John Dee with cataloguing his vast library - at Mortlake, a strange and labyrinthine house full of curiosities, bizarre instruments and peculiar visitors. It is only later that Nicholas realizes he is supposed to be trained as a junior spy for the secret service of Sir Francis Walsingham.
Nicholas sets out on his first mission as a spy - and together with Leonora, a girl from the travelling people who dreams of becoming a costume designer for the theater, he finds himself in a spider´s web of lies, treason, conspiracies and even murder, working against time and dangerous enemies.
Will the two of them be able to save the crown - and life - of Queen Elizabeth?
Set in an era of political turmoil when the boundaries between science and sorcery were still fused together: a picaresque novel as well as spy fiction, centering around the
Throckmorton Plot
with appearances by Giordano Bruno and Christopher Marlowe.
Meticulously researched, detailed and full of Tudor atmosphere; jaunty, original and fast-paced, funny yet with quiet undertones, drawing its charm from affectionally written characters.
An enthralling dramaturgy, an eloquent and never gimmicky narrative flow, an ambiance rich in images, an emphatic depiction of characters and a passionate vindication of curiosity, joy of reading, theatrical art, imagination, and poetry. Thus we lose ourselves in time and space.
Süddeutsche Zeitung
Coordinates
Alternative title:
Her Majesty's Youngest Spy
available as
Foreign rights